Chocolate Truffles – Just TWO Ingredients!
Rich, smooth, creamy and indulgent dark chocolate truffles… they MELT in your mouth!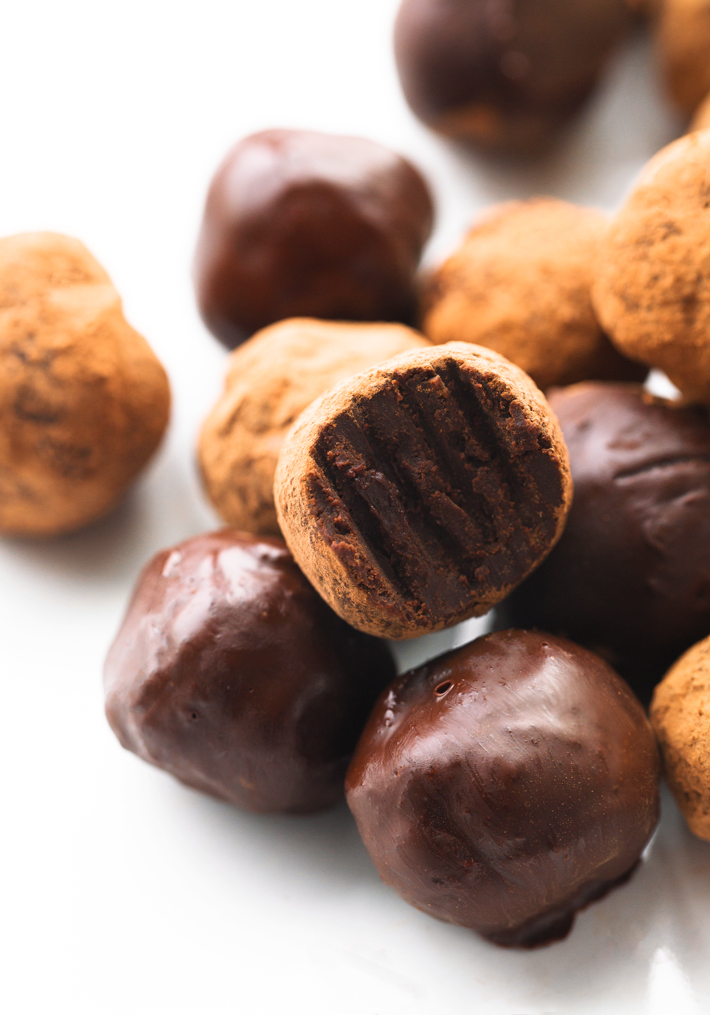 Easy Chocolate Truffle Recipe
These homemade chocolate truffles are the ultimate easy party dessert.
And the best part is that they're shockingly simple to make with just two or three ingredients – and endless flavor possibilities!
You May Also Like: Healthy Banana Bread – NO Oil Required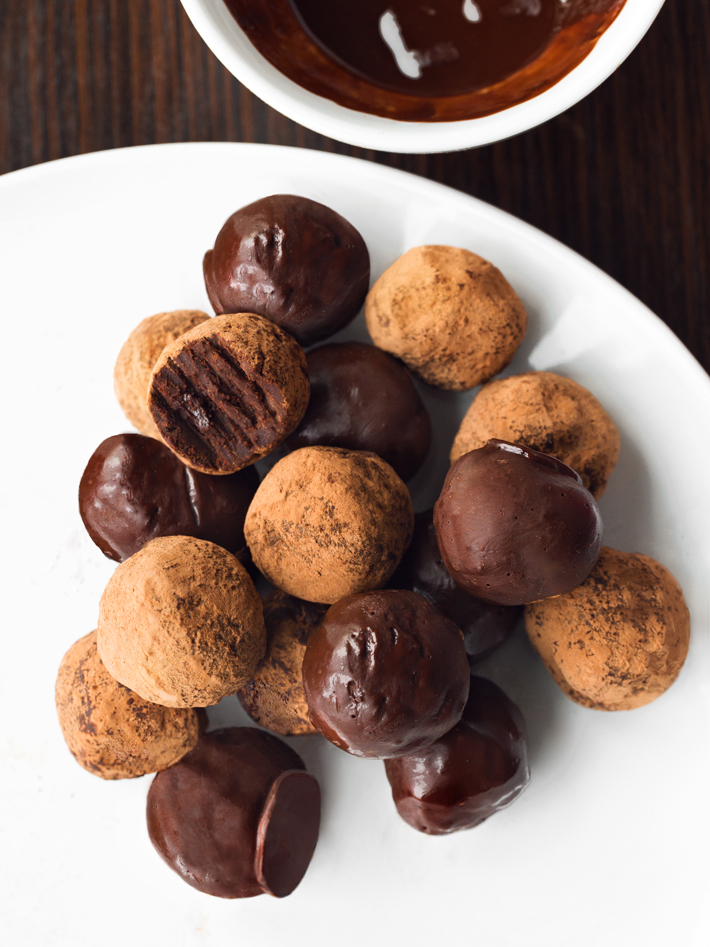 Healthy Chocolate Truffles:
To make the truffles healthier, extra dark chocolate or Sugar Free Chocolate Chips can be used.
This recipe uses all natural ingredients – no powdered sugar, butter, coconut oil, or sweetened condensed milk.
Vegan Chocolate Truffles:
Use coconut cream, cashew cream, or full fat canned coconut milk for coconut milk chocolate truffles. Or use a vegan brand of heavy cream instead of dairy whipping cream.
The no cook chocolate truffles can also be used as decoration on top of a Keto Cake or Vegan Chocolate Cake.
What Are Chocolate Truffles?
They are little balls of pure chocolate bliss.
All you have to do is make up a simple 2-ingredient chocolate ganache (melted chocolate + cream or coconut milk), cool the chocolate filling until firm, and roll in cocoa powder or anything else your heart desires.
Truffles are so named due of their physical resemblance to edible fungi of the genus Tuber, popular in fancy cuisine. Thankfully, the classic chocolate version is much less expensive!
Trending Right Now: Cauliflower Pizza Crust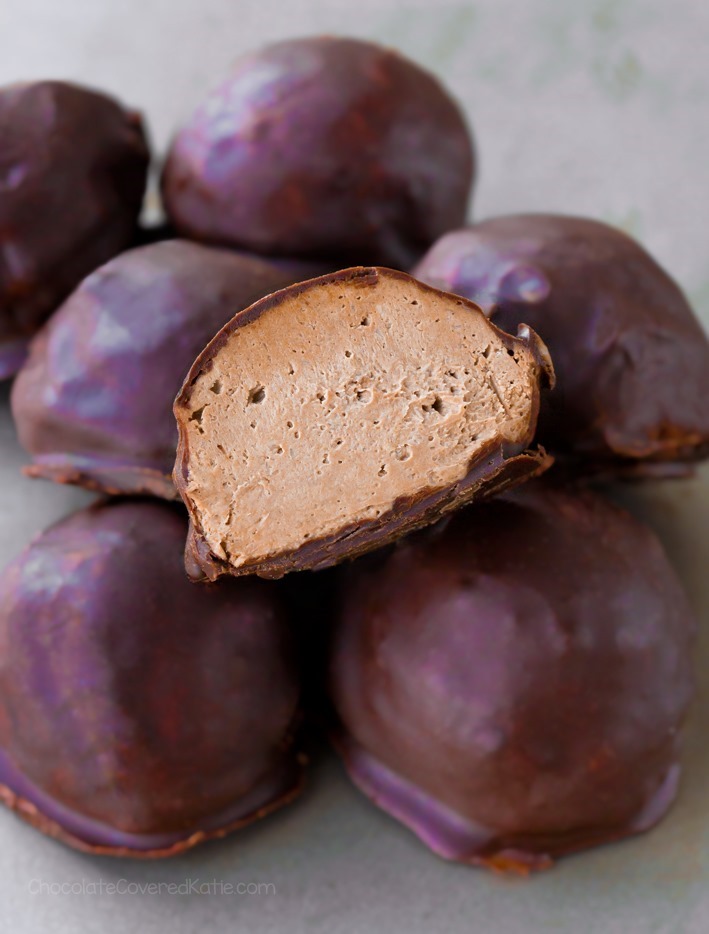 Also Try These Cream Cheese Bombs
Truffle Flavors
Mint – Stir in 1/4 tsp pure peppermint extract.
Coffee – Stir in 1 tsp instant coffee, regular or decaf.
Raspberry – Instead of rolling balls, place a raspberry on a fork or spoon and cover in the ganache, then refrigerate or freeze until firm.
Peanut Butter – Stir 2 tbsp softened peanut butter with the cream and melted chocolate.
Oreo – Instead of cocoa powder, roll truffles in crushed Oreo cookies.
Coconut – Roll the finished truffles in shredded coconut. Or make these Coconut Balls.
Can't decide which version to choose? Turn your kitchen into a Godiva, Lindt, or Russels Stover chocolate factory and make an assorted box of all the different flavors. Leftovers can be wrapped up and given as gifts for Christmas, Valentine's Day, or thank you presents; or they can also be frozen for a rainy day.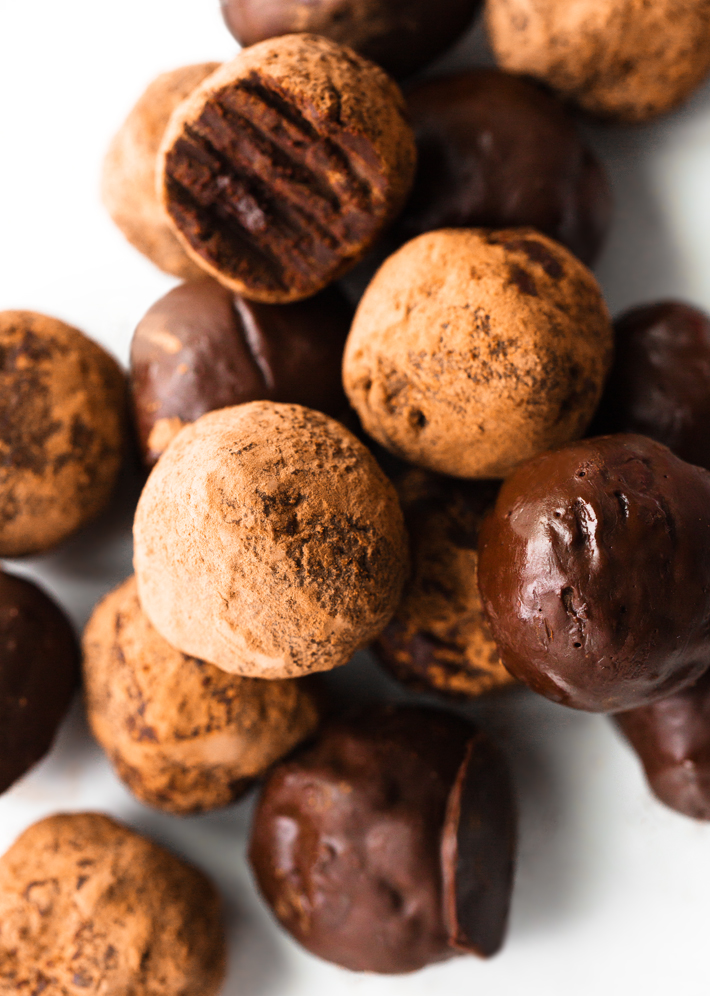 How To Make Chocolate Truffles
Start by finely chopping your chocolate so it melts more quickly.
Heat the whipped cream or coconut milk–either on the stove or in the microwave–just until it starts to boil, then pour over the chocolate.
If desired, stir in a pinch of salt and vanilla extract. Stir until shiny and completely smooth.
Refrigerate until firm enough to scoop; it usually takes somewhere between 30 minutes and an hour.
Then roll out balls, either using your hands (with gloves if you wish) or a mini cookie scoop.
Roll in cocoa powder or any of the flavor options listed below, then set on a parchment-lined plate and refrigerate or freeze until ready to serve.
Leftovers (leftovers?!) can be stored in the fridge or freezer for 1-2 months.


Chocolate Truffles Recipe
For keto, try these Chocolate Brownie Bombs
Chocolate Truffles

Total Time:
5m


Yield:
15-20 truffles

5/5
5/54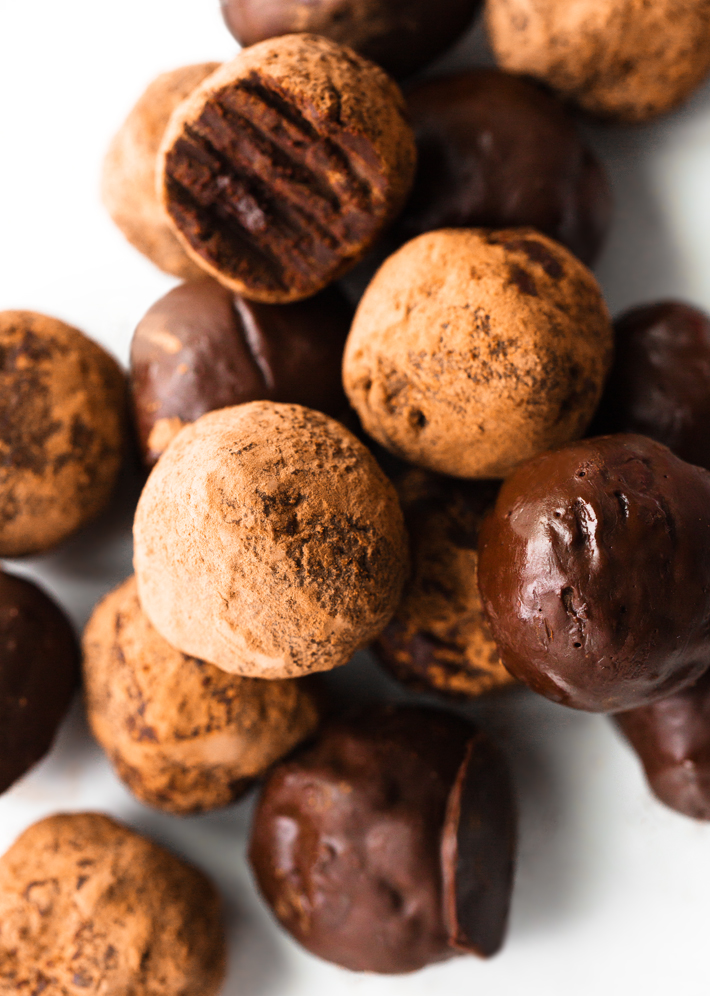 Ingredients
8 oz semi-sweet or dark chocolate

1/2 cup heavy cream or coconut milk

optional 1/4 tsp pure vanilla extract

optional pinch salt
Instructions
*For different flavor ideas—including coffee, raspberry, coconut, and peppermint truffles—be sure to scroll up earlier in this post!
Chop chocolate finely, so it will melt more quickly and evenly. If using coconut milk, be sure it's the full-fat canned type. Heat the milk or cream just until it barely begins to boil. Pour over the chocolate, add the salt and vanilla if using, and stir until smooth. Refrigerate at least 2 hours, or until firm enough to scoop out and roll balls with your hands or a mini cookie scoop. If desired, roll truffles in cocoa powder, sprinkles, crushed walnuts or almonds, coconut, powdered sugar, or melted chocolate. Set on a parchment-lined plate, and refrigerate or freeze until ready to serve. Leftover truffles can be refrigerated for 1-2 months.
More No Bake Chocolate Recipes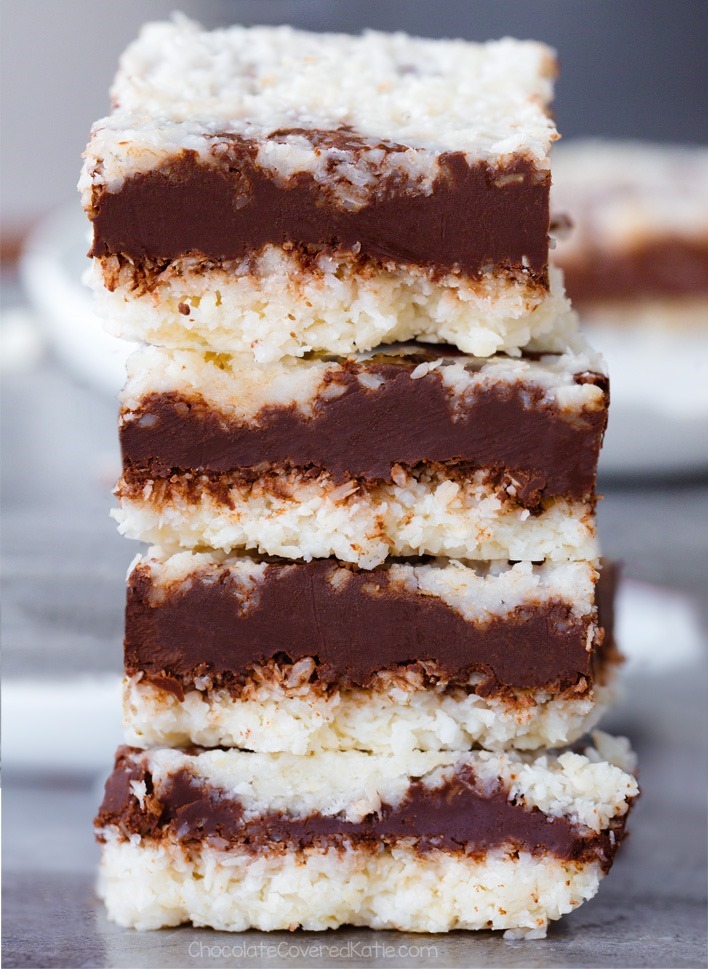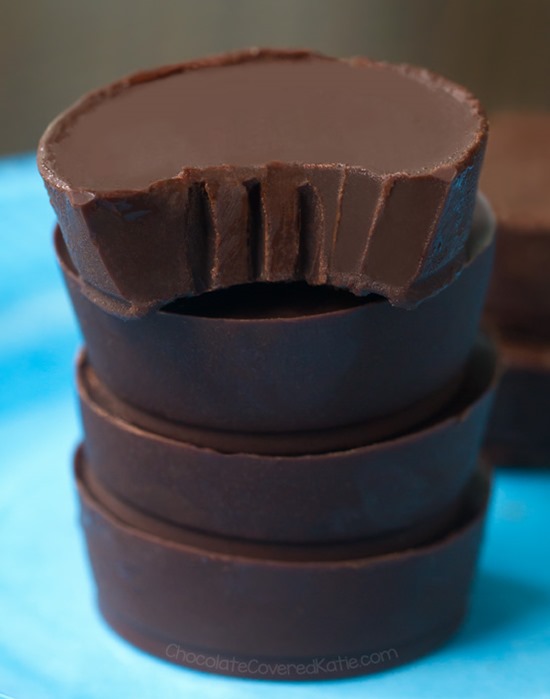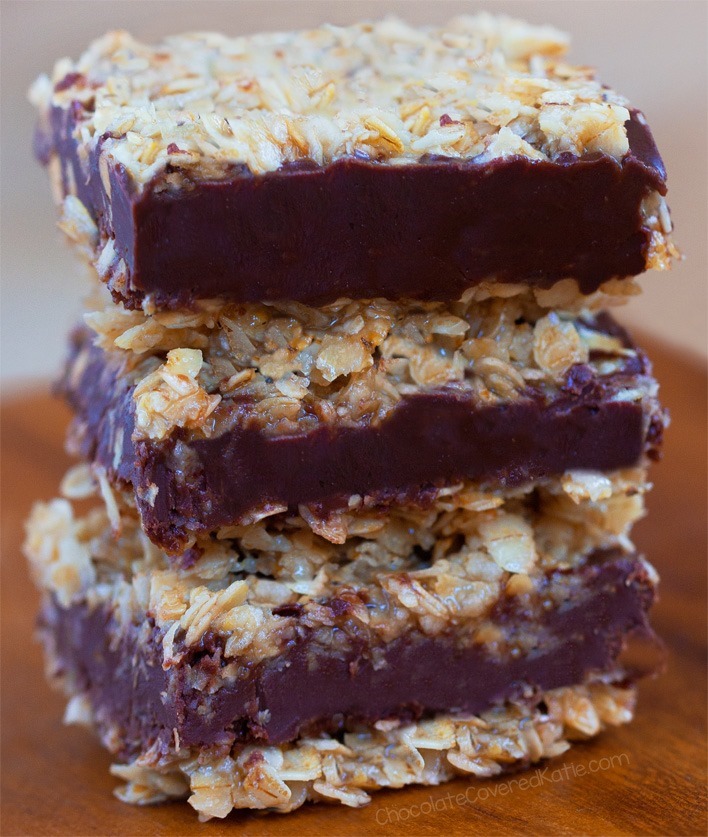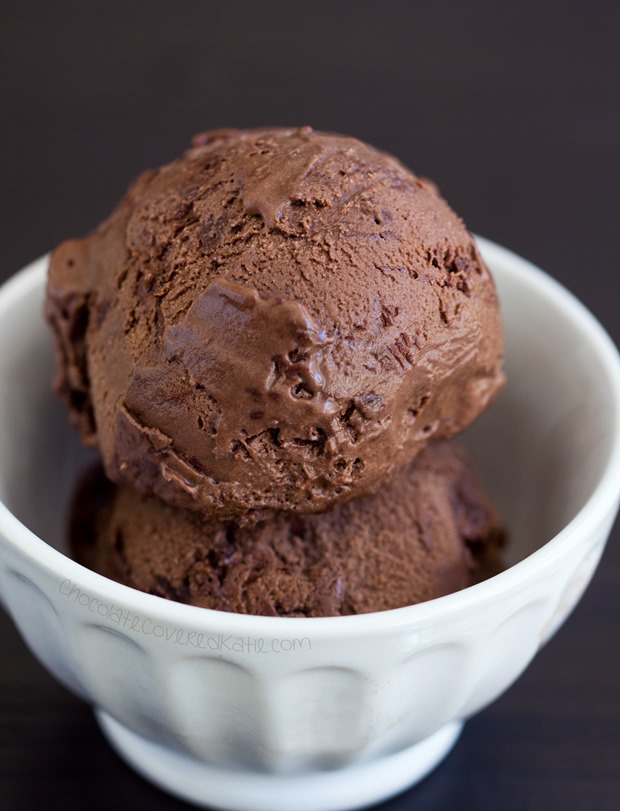 Chocolate Peanut Butter Nice Cream

5/5 (4)
5/54