Trump Says He Gets Along Best With 'Meaner' Leaders In Newly Released Woodward Audio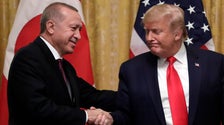 President Donald Trump said he receives along better with "meaner" world leaders, together with Turkish President Recep Tayyip Erdogan, than with the "easy" heads of point out, according to a recording launched Monday by journalist Bob Woodward.
"I get alongside really perfectly with Erdogan even though you're not intended to, since absolutely everyone claims, 'What a terrible dude,'" Trump says in the recording. "But you know, for me, it functions out very good."
"It's humorous, the relationships I have, the harder and meaner they are, the improved I get along with them," he carries on. "You'll explain that to me someday, Alright? But it's possible it is not a undesirable point. The quick types are the types I perhaps never like as substantially or really do not get together with as considerably."
Woodward recorded the tape, which aired Monday all through his look on NBC's "Today," when he was reporting for his forthcoming reserve "Rage," his next e-book about the Trump administration.
Woodward, famously element of the duo of reporters who unearthed the Watergate scandal for The Washington Write-up throughout the Nixon administration, interviewed Trump 18 moments for "Rage," beginning in February and continuing via most of the summer season, Politico described.
It was not straight away clear when Trump told Woodward about his inclination to favor "tougher and meaner" world leaders.
"As you know, underneath the Structure, the president controls international relations unilaterally," Woodward instructed NBC on Monday. "He decides. And he has made a decision, 'Oh, I'm likely to get along with Putin, I'm heading to get along with the crown prince of Saudi Arabia … and I'm likely to try to get together with Kim Jong Un.'"
"He just smears South Korea time and time once more in my interviews," Woodward included. "He is the experience of the United States to the environment, and he has explained, and there it is, 'Hey glimpse, I get along with these negative guys, but not the good guys.'"
One particular of the most explosive revelations from Woodward's forthcoming guide, set to be unveiled Tuesday, was Trump's final decision to mislead the American community about the threat of the coronavirus.
In a recording taped on Feb. 7 and introduced very last week, Trump advised Woodward that the virus was airborne and five periods deadlier than the flu. But for months afterward, the president continued to keep big rallies, and on Feb. 26, he told reporters that the flu was far more risky than the virus.
"I say the president is the erroneous gentleman for the work," Woodward informed CBS' "60 Minutes" in an job interview that aired Sunday. "It's a conclusion dependent on proof — too much to handle evidence — that he could not increase to the celebration with the virus and inform the reality."
Contacting all HuffPost superfans!
Indicator up for membership to grow to be a founding member and aid shape HuffPost's future chapter